What is a will?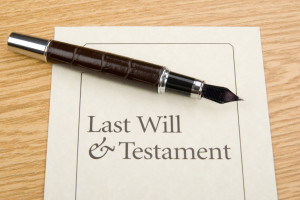 A will is a legal document that identifies someone to manage the disposition of your estate and provides for the transfer of your property after you die.  Sounds simple, doesn't it?  In many ways it is.  As the saying goes, however, the devil is in the details.
Consider it this way:  this declaration is your last opportunity to have any say in what happens to your estate.  Should there be any confusion, you will not be available to explain your intention.  If you fail to clearly state your desires, the state will need to get involved in sorting things out and, if necessary, deciding who gets what.
Frequently referred to as a Last Will and Testament, that phrase was important when it was necessary to differentiate between a person's real property or land, and personal property.  The will covered the land while the testament applied to everything else.  Nowadays, there is no need for the additional historical language.
Parts of a Will
There are three essential parts of a will.  First, the will must identify the person creating it, known as the testator.  The testator must be at least 18 years old and have the requisite mental capacity ("sound mind and memory").  Next, the will must identify the estate administrator, known as the executor or personal representative.  Finally, the will identifies your beneficiaries—those who receive your property.  You may elect to provide them specific items or amounts of money, or a percent of the estate.  It is important to designate a residual beneficiary, that person who receives all that remains after all expenses have been settled and all other gifts have been distributed.
The will may contain guardian information in the event the testator has children younger than 18.  This is important since lack of an identified primary and secondary guardian may result in the state assigning guardianship responsibilities to an individual not familiar to the child.
At NOSTRANDLAW, we can create a will to meet your needs and secure your future.
Take the first step now to ensure peace of mind.  Call me for a free conversation about how I can help.